Become a hospital volunteer
Hospital volunteers offer their help and time to provide services which benefit patients and visitors throughout the health community.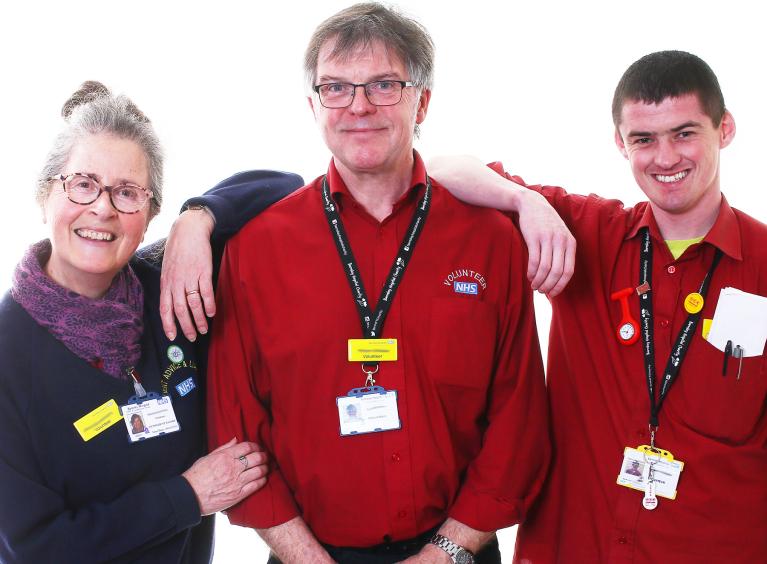 We have over 100 volunteers working across Barnsley Hospital. They are greatly valued members of the team.
Who can become a volunteer?
We welcome people from all walks of life. If you are over 16 years old, you can apply to be a volunteer. We welcome enquiries from people in full time education or work, as we have evening and weekend opportunities. The Trust is as an equal opportunities employer - this applies to volunteers too.
What do volunteers do?
Our volunteers work in many different kind of roles, across various departments in the hospital and community.
Will I receive training?
All volunteers are required to uphold the hospital's policies. This includes health and safety, confidentiality and equality and diversity. Volunteers are also required to attend the mandatory basic training sessions in order to be equipped for their roles. Volunteers are also expected to attend any additional training required - such as refresher training sessions.
Travel expenses will be reimbursed for travel within the Barnsley boundary. You will not need to pay for parking at the hospital.
What do you get by becoming a volunteer?
By volunteering at Barnsley Hospital, you will:
help the hospital, local community and NHS by providing a service for patients and visitors
meet new people and make new friends
build upon your self-development
increase your confidence and gain a sense of purpose and achievement
learn new skills
Want to find out more?
Read our Volunteering Strategy
If you are interested in becoming a volunteer, or for further information, please contact:
Voluntary Services Team:
Ready to apply?
Complete our volunteer application form.
Roles and departments
Barnsley Hospital Charity
As part of raising funds and awareness - of what the charity does to support patients, their families and our staff - we hold a number of fundraising events.
In order to run these large events we need volunteers that we can call on to help, in a number of ways. This could be as a marshal for a run or walk, helping run a stall or registration desk, handing out goodies, collecting money with a bucket, or even getting dressed to add the element of fun to the event! This list is not exhaustive!
Chemotherapy Unit (minimum age 18)
We need caring, positive individuals to help with:
making hot drinks for our patients 
helping to meet and greet, patients and visitors 
providing company and conversation - such as playing cards with, or reading to a patient
Coffee Shop
Our busy coffee shop is a popular stop-off points for patients, visitors and staff. Your customer service skills need to be at their best as you take orders, prepare hot drinks and snacks and operate the till.
Full training is provided.
End of Life companion (minimum age 18)
The role of an end of life companion is to provide comfort and support to patients, and their loved ones at their time of need.
Duties include:
sitting with patients and providing companionship
listening to the needs of patients and their loved ones 
showing understanding and compassion to a patient's needs and communicating concerns about the patient to the ward nursing team
Please note, due to overwhelming support from our community we are not currently recruiting for end of life companions.
Enhanced support volunteer (minimum age 18)
We have various opportunities to support patients in our in patient ward areas and emergency department.
As an enhanced support volunteer, you could be:
assisting patients with their meals
supporting 'virtual visiting' by providing assistance using a mobile phone or tablet device
providing companionship - talking to patients, reading to patients, playing games with patients
supporting any patients who are on end of life care plans
assisting staff with day-to-day tasks such as collecting medication from the pharmacy or delivering bloods to the laboratory 
Intensive Care Unit (ICU) (minimum age 18)
To volunteer in the ICU, it is important to be a caring and compassionate person. It will be your role to meet and greet loved ones, and other visitors at the doors leading into theatre reception. You will then escort them through theatre reception to the ICU.
In this volunteering role it is important to have good communication skills. You will talk to, and listen to patients, and their loved ones, and provide a level of emotional support.
Outpatient departments
Over 240,000 people pass through our outpatients department every year. It's a busy, fast flowing area.
Being friendly, welcoming and helpful is essential for volunteering in these roles.
These roles can include:
welcoming patients and visitors
assisting patients in booking in for appointments 
signposting and showing people how to get to various parts of the hospital
Here's a closer look at some of the departments you could be volunteering in:
Outpatients self-check in kiosks  - encouraging and assisting patients to use the self-check in kiosks located in the outpatients reception area
Audiology - welcoming and greeting patients, booking appointments for repairs, answering general questions about waiting times, carrying out simple hearing aid repairs, offering support and advice to patients who wear hearing aids
Ophthalmology and Women's Services - welcoming and greeting patients, assisting patients to check-in, delivering patients notes within different areas of the departments, collating patient feedback on these services (for national and local surveys)
Meet and greet volunteers
Our friendly meet & greet volunteers support patients and visitors, in a variety of different ways:
advice about hospital services
showing patients where to find the ward or department that they are looking for 
escorting patients around the hospital to their appointment, or to the wards
The 'meet and greeters' are mainly based at main reception. Sometimes other entrances of the hospital require volunteers too.
The Well (minimum age 18)
The Well is based in Barnsley Town Centre. The Well offers complementary therapies, such as massages, to patients with a cancer diagnosis.
To volunteer at The Well you must have the ability to support patients to feel relaxed and comfortable. As a volunteer, it would be your role to escort the patients to and from the reception to The Well on the 3rd floor.
You would also help the therapists to set up, clear up, and support patients to complete the therapist's activity sheets. Within this role we also offer support to patients with scarf tying, and give advice on headwear after hair loss.