Chaplaincy and Chapel
At Barnsley Hospital we offer religious, spiritual and pastoral support to patients, relatives, carers and staff. The Chaplains are available for everyone whether you have a religious faith or not.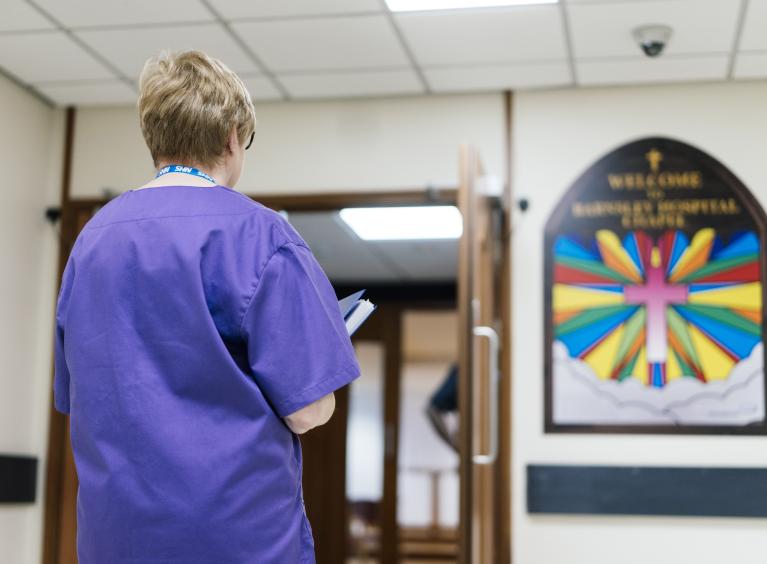 Support provided
The Chaplaincy team offers support to patients, relatives, and staff whatever their faith or belief, whether religious or non-religious.
Chaplains provide a supportive, non-judgmental confidential listening ear to all. Chaplains support any pastoral, spiritual or religious need including provision of particular religious ceremonies such as a blessing or baptism.
As a discipline and professionals within the NHS, we respect the feelings, beliefs, and values of every individual.
Chaplains can help with the deep concerns which affect us all as human beings relating to values, purpose, meaning, and identity. Spiritual care explores issues around life, death, meaning, hope and important relationships.
We do not offer formal counselling, but we are experienced listeners; especially in times of crisis and need.
Together, as a multi faith team we work across all faith traditions by providing a whole-time chaplain, and part-time chaplains, and trained volunteers.
Spiritual and Religious Support
Chaplains can provide support to patients via:
a listening ear
religious support through prayer (general, specific i.e. before operations, end of life prayers)
sacramental and religious care; Holy Communion, anointing, pastoral care, emergency baptisms, Last Rites
naming and blessing services for babies
emergency relationship blessings or blessing at marriage ceremonies during critical times
liaise with local faith leaders on your behalf, when requested
support for your faith/spiritual needs and beliefs
access to religious literature (Holy Bible, Noble Qur'an)
comforting presence at times of distress and anxiety and opportunities to reflect upon loss, grief and new identities after injury, accident or bereavement
support and lead funeral services for baby loss in the hospital
bereavement support
Bedside Communion
For patients who would like to take communion, an Chaplain or an authorized member of the team can bring them Communion at their bedside. Please do ask a member of staff to contact the Chaplain.
Whilst in hospital
ask a member of staff to refer you to the Chaplaincy
please call us on Extension 5751 from within the hospital or 01226 435751 from outside
if your call is not urgent, you can leave a message on our answering machine
you are welcome to use the Chapel. The Chapel is open 24 hours a day and is a quiet space for all those who need to be still for a while
if you are mobile and permitted to leave the ward, you can visit the Chaplaincy Department between 8:30 am and 4:30 pm, Monday to Friday
Please note that the Chaplaincy office is not manned at the weekends or Bank Holidays. If needing a Chaplain urgently please ask staff to contact the hospital switchboard
You can email us at: Chaplaincy.barnsley@nhs.net
We have chaplains on call all day and night. In an emergency, nursing staff will contact them through the switchboard.
Chaplainacy support for staff
Chaplains can provide support to staff via:
emotional and spiritual support and guidance 
bereavement support
memorial service following the death of a staff member 
Chapel Services – all are welcome
Tuesdays, Roman Catholic Mass at 12pm.
There are occasional services that are held throughout the year such as:
Christmas Carols
Armistice Day
Children and babies memorial service -  offering people a space to remember their loved ones in a sensitive and supportive way. Whether it is through the lighting of individual candles, writing messages and placing them on the memory tree, these are emotional and moving occasions
Accessibility and travel information
Read about accessibility and find directions to the Chaplaincy Office on the AccessAble website.