Start or develop your nursing career at Barnsley Hospital
If you want a rewarding job that will help you progress in your career, then joining us as a nurse is a great opportunity. Barnsley Hospital welcomes candidates looking for flexible or part time opportunities, as well as full-time.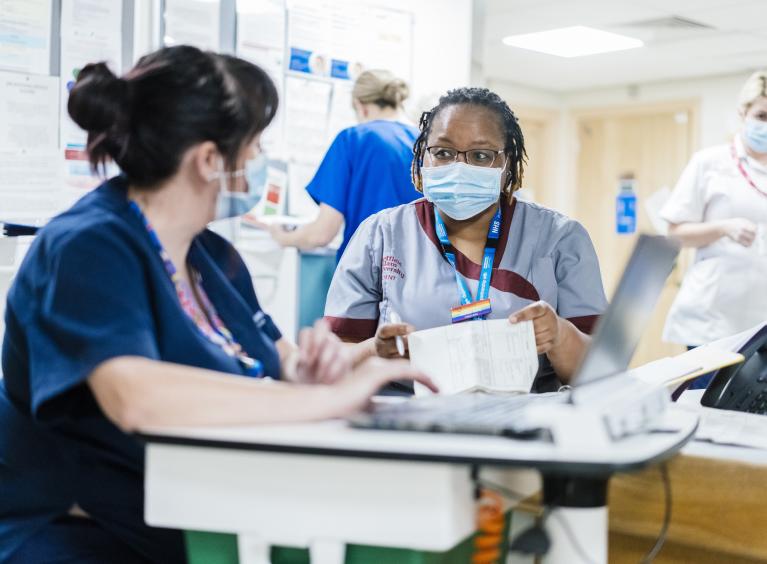 Nursing at Barnsley Hospital
If you are a newly qualified staff nurse please take your time completing your application form, paying particular attention to the values questions. If you are successfully shortlisted you will be offered a permanent contract in your area of choice without a formal face to face assessment.
are you studying to be a Registered Nurse?
are you a newly qualified Registered Nurse?
are you a Registered Nurse with experience looking for a change?
We are seeking enthusiastic registered nurses to join our Trust, choosing a career at Barnsley Hospital NHS Foundation Trust means joining:
dynamic teams that thrive on challenges in patient care
a Trust that embraces innovation and improvement
an organisation committed to supporting your career pathway and improvement
an organisation recently rated 'Good' by the CQC
an organisation where you have the opportunity to develop your career in a supportive environment
We offer high levels of support and development which includes a preceptorship programme for Newly Qualified and Registered Nurses new into the NHS.  There is also the opportunity for career development through our internal Aspiring Talent Management Programme.
More information
Get in touch for a chat
For general queries, please contact the Recruitment Team at barnsley.recruitment@nhs.net, or telephone 07821 808097 or 01226 432721
Barnsley Hospital NHS Foundation Trust is committed to promoting equality of opportunity and fair treatment to all applicants regardless of race, nationality, ethnic origin, gender, marital status, mental or physical disability, religion or belief, sexual orientation, age or offending history.
Preceptorship Programme
The Department of Health (2010) defines preceptorship as 'a period of transition for the newly registered practitioner during which time he or she will be supported by a preceptor, to develop their confidence as an autonomous professional, refine skills, values and behaviours and to continue on their journey of life-long learning.'
We open our preceptorship programme to all staff from any allied health professional. nursing, nursing associate and midwifery background who is:
a practitioner returning to practice after completing a return to practice programme
entering practice for the first time, usually due to being newly qualified
entering a new field of practice following, a second registerable qualification
moving from one practice setting to another (community to acute trust)
Find out more in our preceptorship programme leaflet.
How to become a nurse
Nursing is a dynamic, secure and rewarding career choice. As a registered nurse, you will be in demand across the UK and the world.
There are a number of different routes into nursing:
studying a degree in nursing at university – you can train in the fields of adult nursing, children's nursing, learning disability nursing and mental health nursing – or take a "dual field" degree. You can study an undergraduate (3 years) or postgraduate degree (2 years) in nursing
train as a registered nurse degree apprenticeship (RNDA) - through employment and university study, you will qualify as a nurse within two to four years
train as a nursing associate – through a mix of on-the-job training and study you will qualify as a nursing associate, and can progress to becoming a registered nurse
Check out the NHS careers site, for more information on becoming a nurse.
Please use the links below for information from two local universities about how to apply for nursing courses and what experience and qualifications you need to become a nurse.