We welcome all visitors to Barnsley Hospital - we recognise the valuable role family and friends play in the person-centred care of patients.  
We regularly review our visiting guidance so please check this website for the latest information.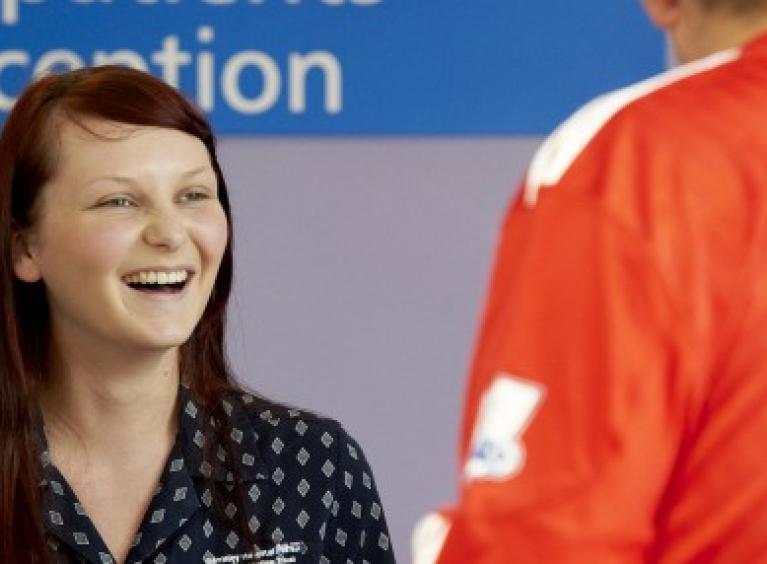 Guidance on visiting
We have a few general rules for anyone visiting the hospital. Following these rules helps makes Barnsley Hospital safer for everyone who visits. 
Hand gel - to help us prevent the spread of infection, please use the hand hygiene stations when moving between different areas of the hospital; especially when using doors. Children should only use the gel under parental supervision. 
Sitting on the bed - please do not sit on a patient's bed. This could cause cross infection. There are chairs available within the ward areas for you to use. 
Machinery and equipment - please do not touch any of the machinery or equipment that is around any patient's bed. This may cause faulty readings and may be detrimental to either the patient or yourself. 
Telephones and mobile devices - you may be asked to turn your mobile phone off in some clinical areas. If you do use your phone whilst in hospital please be considerate towards other patients and respect their privacy.
Smoking - please note that Barnsley Hospital is a smoke-free site and smoking is not permitted on any part of the hospital grounds.
Wearing a mask 
From time to time we might ask that anyone coming to the hospital wear a face mask to help us limit the spread of seasonal illnesses. Information about when and where you might be asked to do this will be made clear during your visit. Of course, you can personally choose to wear a mask, if you so wish.
We ask everyone to regularly use our hand hygiene stations. 
Please be prepared for staff and volunteers to ask you to wear a mask if it is current policy at the time you visit.
Some charities have provided lanyards to those who are exempt from wearing face coverings. We do not ask children under the age of 11 to wear masks. 
If you are feeling unwell, we ask that you not visit. This is to protect our vulnerable patients, and applies even if you have tested negative for Covid-19, are fully vaccinated, and have received boosters. Visitors may be asked to leave if they are displaying any covid-19 symptoms. 
We ask that only two people visit any bed space at one time. 
Visitors will be asked to wear a mask if visiting Covid-19 positive patients, or patients who are still awaiting Covid-19 test results.
Visiting times 
Visiting times for most wards are between 11am and 8pm.
Visiting is available throughout the day and no longer limited to set times. However, we may need to limit the numbers of visitors if we feel there could be a risk to our patients. 
Please contact the ward to confirm visiting times.
Only in rare circumstances will visiting not be permitted.
Contacting us to ask about a patient 
If you call the ward to ask how your relative, partner or friend is, we must always ask what your relationship to the patient is, as well as ask their permission before we can give out any details on their condition. 
Because our nurses are very busy, we ask that where possible for one relative to ring the ward and pass the information to wider family and friends. 
Ward and department phone numbers are available on the contact us page. 
Friends and family can also ring patients direct on their bedside telephone. When you visit, remember to ask what their direct number is. 
Virtual visiting
Patients are encouraged to keep in touch with friends and relatives using their own phone.
We continue to offer "Virtual Visiting" for all inpatients who would like it. This means regular phone calls or WhatsApp video calling with help from staff and volunteers.
Please talk to the ward nursing team as this service is offered to patients by request.
Exceptions to general visiting
Patients receiving end of life care
Open visiting is available.
Long-stay patients and patients with complex care needs
Open visiting is available.
Patients living with dementia, autistic patients, and patients with a learning disability
Open visiting is available.
Patients attending the Emergency Department
Visitors are not permitted in the Emergency Department, but patients may be accompanied by a carer as required. You will be asked to wear a mask or face covering.
People attending outpatient and diagnostic appointments
In order to reduce footfall though the hospital, anyone attending an outpatient or diagnostic appointment is asked to do so alone, unless they need to be accompanied by a carer.
Delivering flowers
There are a number of wards within the hospital that cannot accept flowers. We advise all visitors of patients to call the ward you are visiting to check what the policy is to avoid any disappointment.